Newsletters:
July 21, 2003 Newsletter - Results of the Vines-Keeling Stipend Fair
May 2003 Newsletter - Includes Saturday and Sunday information
March 2003 - Vines-Keeling Family Reunion Newsletter - Includes Saturday Menu and V-K
Stipend Instructions
August 2002 - The 2002 Vines-Keeling Family Reunion Newsletter

Picnic Information:
The 2003 Family Reunion dates have been set for July 12th in Los Angeles, CA. The picnic on Saturday, July 12th will be held at the:
Kenneth Hahn Regional Park
4100 S. La Cienega Blvd.,
Los Angeles, CA 90056.
Kenneth Hahn Park is near Ladera Heights. The picnic site is Burke Roche Point at the top of the hill, you will have a full view of the city. (Very Nice!!)
Saturday, July 12th Picnic
$35/adult for Food and Tee-Shirt or $22 for Food Only.
$15/child under 12 for Food and Tee-Shirt or $5 for Food Only
Schedule of Activities for Saturday, July 12th
10:00 – 11:00am Family Registration
10:00 - 5:00pm Fun Jump
11:00 - 1:00pm Family Social including
· Introduction by Family Branch
· Family Tree Presentation
· Family Web site Overview
· Questions & Answers
12:00 - 1:30pm Clown (Face Painting, etc)
1:00 - 2:00pm Lunch
2:00 - 2:30pm Family Photo
2:30 - 3:00pm Piñata
3:00 - 3:30pm Awards(Oldest/Youngest/Furthest distance, etc) and Sno-Cones
3:30 - 4:00pm Tug of War
4:00 - 5:30pm V-K Stipend Fair, if necessary.

Here is a map to the park. If you get a chance, check it out, you'll love it!!!!!!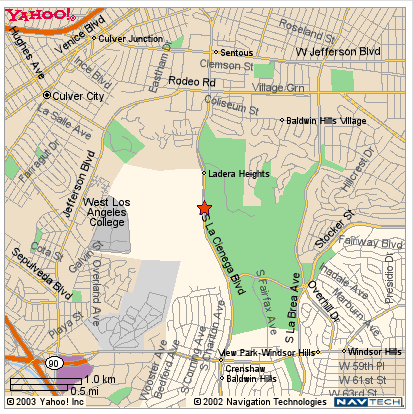 Here is a link to an interactive Yahoo Map and driving instructions:
Here is a link to the Kenneth Hahn's Web Site - information about the Park: